Freedom of Speech with a Real A$$hole.


By Dane Stevens

This interview is compiled of wide ranging and bizarre questions covering the three ring circus that is Brandon Bond's life. Topics covered include Television, midgets, tattoo seminar piracy, TIME magazine, Animal Planet, the economy, charity, celebrities, business, sex, guns and in fact money...


The answers will surprise you! They blew me away.
The source of our questions is as unique as the answers. The www.ALLORNOTHINGTATTOO.com online community is comprised of fans, clients, tattoo artists from all over the world, and is open to everyone.

In a thread: http://www.allornothingtattoo.com/forums/showthread.php?t=1100 the community has been asking interview questions for years leading to 20 pages of unique and bizarre questions. I picked my favorites, added a few of my own, and got Brandon on the phone for an hour. Here are the fruits of that labor, my personal favorite interview in 8 years of doing tattoo/music related material. - Dane Stevens

Q.) I recently saw an article in TIME magazine mentioning you for tattooing 50 Cent, NAS, various athletes such as Floyd Mayweather Jr, and other celebrities. What is it like to meet these people and work with them?

BB.) TIME magazine... that is crazy huh? I'm not surprised to tattoo famous people, but I was surprised to see my name in "TIME" twice now? WHAAAAT? Nuts!? My teachers and principals can suck it! Ha!

All or Nothing attracts an extremely diverse client base from all over the world. The artists at the shop are constantly tattooing bands, rappers, sports folks, and various assorted surprises here and there. You never know who you will run into at the shop, it is pretty cool. Meeting celebrities is no different than meeting anyone, all people are different, some are amazing and some are terrible. I generally get along with most famous folks, as I understand their need for privacy and discretion. Some want us to film and many do not. Some want to meet the rest of our artists, and some want to just come in/out through the "secret" entrance with no mention of them ever being there. We have worked with many that we have not "admitted" to, as per their request for discretion, which I always honor. I will say some are exactly what you would expect, and by that I mean in a negative way. I did not get along with Kelis (Nas' ex wife, the "milkshake girl"), or Mike Tyson. They, too, can suck it just like my old Principal.

Article of Brandon Bond Tattooing NAS
http://www.allornothingtattoo.com/index.php?sub=brandon_tattoos_nas_and_kellis

Images from Brandon Bond Tattooing NAS
http://viewmorepics.myspace.com/index.cfm?fuseaction=user.viewPicture&friendID=2378638&albumId=995446


Q.) I also recently saw you on "Pitbulls and Parolees" on Animal Planet, saving the largest Pit Bull Rescue on earth singlehandedly. What was it like working with AP, and when can we finally expect to see YOUR show every week?

BB.) First of all I did not do that singlehandedly, I had a lot of people working with me. My assistant, Nicole, and I did not eat/sleep much for about 4 months to accomplish all of that with the bands, flights, insurance, permits, artwork, releases, booking, casinos, rental cars, shuttles, it was insane, on so many levels. But it worked, and without it www.vrcpitbull.com might have ceased to exist. A lot of people get all caught up in saving one dog at a time, I figured let's try and make broader strokes, which is something I learned while filming the documentary recently. So our goal was not to place a dog or two, but to support someone who helps thousands. And we continue to. She puts the money to the dogs, many do not, and I can personally vouch for that as we have provided her with a LOT of loot, and I continue to see growth as a result, every time I visit.




Gallery from the Great Pit Ball
http://www.allornothingtattoo.com/gallery/thumbnails.php?album=158



Her TV show is a cool show. I f*cking hate reality TV, but that show has a message, and a rawness to it, that lent itself to OUR message perfectly. Plus they said I could cuss, so that was cool (laughter). Not to mention the attention it brings to TIA TORRES and VRC, at a time when they need the help so badly. So when they asked if I would do the Season Finale, the answer was a rare and resounding "HELL YES". I will probably agree to be on season 2 tattooing her daughter Tania or something; we're discussing it now.



Gallery of Behind the Scenes Of VICKtory to the Underdog
http://www.atlantapitbullrescue.com/index.php?sub=behindthescenes



The craziest part was I got a lot of texts from friends asking me to hook them up with Tania (Tia's daughter) or Pixie (from LA Ink, also on the finale and in our film). That answer was always a NO!

As for an ALL OR NOTHING/BOND/PITBULLS/TATTOO/BUSINESS/TRAVEL/GUNS/ADVENTURE show... another big fat NO. Never. I have now refused 12 separate pitches from LA/NYC, everything from car racing, tattooing, travel, to the sporting channel! (laughter) The original production company that created the first "reality tattoo show" came to us years ago, and I am SO GLAD we blew them off. Tattooing is an industry where we live by different rules, those are the same rules that have fed me since I was a teenager, those shows were a cancer, and I have always been incredibly selective with what I put our names on. I even filmed some stuff in LA, but I thought it came out pretty whack.



Q.) Tell me about "PIT BOSS" and Shorty?

BB.) That show is premiering this Jan. on Animal Planet. What very few people will actually know is that Shorty was in the original pitch/homemade pilot for Tia's "Pitbulls and Parolees" show.

Pit Boss centers around "little people", not midgets, but "little people". Anyways, Shorty is a great guy. He spent a lot of time in prison, which is how he knows Tia, he was actually in the parolees program at villa lobos I think? But Animal Planet will probably not relate that in either show, and I'll probably be in trouble for even saying that. I don't think that Tia and Shorty are exactly in love with each other anymore, but that is absolutely NONE of my business. They are both such distinctive and intense personalities, they are so different, it is hilarious really that they both have shows now.




One of the Film Festivals that our film showed in was in LA, and we use all of our premieres to raise money for pitbulls. I was contacted by a production manager that I worked with when I went on LA INK to raise money for pit bulls like a zillion years ago, and she was doing Shorty's new show for Animal Planet, she asked me if we could include our film fest in the show, and I said yes. We raised some money to help Shorty with a dog situation.



Gallery from Brandon Bond on LA INK
http://www.allornothingtattoo.com/gallery/thumbnails.php?album=106



Q.) You recently won another award for one of the documentaries you created (VICKtory to the Underdog), do you enjoy making films, and how were you so successful in an area you know nothing about?

BB.) I absolutely hated making that film, and "See you in Hell vol 1 and vol 2 (which is done by the way). In the YouTube video of the AOF awards, you see me addressing a standing ovation of "FILMMAKERS" giving me an award for doing what they do. It was weird, and my response was genuine. I don't like making films, shorts are fun, but full scale long productions are more insane than you can possibly imagine. Out of everything I have ever done, making VICKTORY was the hardest, and I don't even get PAID by that one! (laughter). So I respect film makers, but I don't want to be in their "club". I like tattoo artists thank you. They are far more genuine by nature.



Gallery from Action on Film Festival Vicktory wins awards

Gallery of Behind the Scenes Of VICKtory to the Underdog
http://www.atlantapitbullrescue.com/index.php?sub=behindthescenes



Q.) Have you ever been bitten by a rescue dog?

BB.) Only by a Doberman, which is actually discussed in the companion discs to the feature film "VICKtory" Two separate discs that are different from the main film completely. I like that version of the film the BEST - it is totally different. We made it ourselves here in the ATL, homemade style. It is 100% independent, low budget, raw, uncensored, and awesome. Hardly anyone has seen that one though (laughter).



Click here to purchase VICKtory Mega Pack
http://strangleholdmerch.com/vicktory-mega-pack-p-207.html



Q.) Your instructional seminar DVD series, "The Whole Enchilada" has become a household name in tattooing, talk to me about the reselling, pirating, transfer of information, and the vol 3 we have all been waiting for.

BB.) Joshua Carlton, Nate Beavers, and I were all working at All or Nothing, and we were getting a lot of the same questions from other artists about the techniques we were executing. Wrong questions, like "what kind of ink makes that so bright" and dumb sh*t like that. I was already touring, teaching seminars live, and I couldn't show the tattoo process up close. Also, I was covering so much material in only two hours, that students and young tattooists were having trouble keeping up, and retaining all of the information. Enter, the "zoom and rewind" buttons. All of a sudden, we could shoot straight to an example, up close with editing, and people could rewind and and watch it again and again. It was genius in theory, and paid a lot better than travelling! All from the comfort of being in Atlanta.



Click here to purchase The Whole Enchilada Volume One
http://strangleholdmerch.com/the-whole-enchilada-dvd-p-127.html



We would supply specific seminars to specific artists only, and it worked. I created an online company and a technical forum specifically to help those along who were participating in our series of videos.



The project was a resounding success and many artists, including several of my own artists, have benefited from the discs.
Specifically for the purpose of not allowing the DVDs to get into the wrong hands, we regulated every single disc that was sent out. I never agreed to allow distributors to get a hold of it, not even Kingpin Tattoo Supply, so that we could control everywhere the disc ended up. Sales were incredible and everything was awesome until the bootleggers came into the equation. We thought that might happen and prepared in advance for it. The discs are digitally imprinted and match each order so, every time something is distributed without our permission, that order is forwarded to the attorneys. Several other very well known tattoo artists are involved in a large infringement of both civil and criminal interests. People seem to forget that IP addresses, order numbers, eBay, torrent downloads; all of that is digital like "The Matrix" and sh*t. I am not involved in any way, other than to donate the information on stolen materials. We are not "Metallica", and while piracy is expected these days, I'm still surprised at the minority that abuses what is being shared in light of WHAT is on those discs!

I, too, have an iPod or 3, full of stolen music and porn, and an iTouch and an iPhone, all with stolen crap probably, just like everyone, but the information included in tattoo seminars is not exactly "sweet home Alabama" if you know what I mean. It is meant for a specific few, privately licensed, and distributed by my companies only. If it is redistributed and gets in the wrong hands or ends up on EBAY or some sh*t, guess who gets flooded with HATE MAIL the next morning?

If you ordered it, keep it, refer to it in your library once a year, as your tattooing evolves so will your perception of a lot of the information. And yeah, F*ck Lars Ulrich [drummer for Metallica] (laughter). But, KILL EM ALL is an amazing record. And "Master of Puppets" is my all time favorite from them. "Ride the Lightning" was good too.

Vol 3? We get a lot of mail about that too, probably not. Why should I? If sh*theads can't respect the information? (laughter) I have spoken at length with Nikko, and many of the "seminar DVD guys" coming out about this exact thing. Piracy and redistribution. Nobody likes a sh*thead. For now, I'm out of that game. Sales continue, and will until we are out of stock, which will be soon. Once they are gone, they might be gone forever.



Click here to purchase The Whole Enchilada Volume Two
http://strangleholdmerch.com/the-whole-enchilada-volume-2-p-170.html



Q.) What is it about the tattoo industry that you love the most, and if there is one thing that you could change in the industry what would it be?

BB.) The rich history, and the personal freedom. The history is ever inspiring and amazing to be a part of. An honor even. I also love the freedom that tattooing has given me. I can go anywhere in the world today and be getting paid by tonight. I can cuss and look funny, and act anyway I want and still get paid. The one thing I would change is the animosity and negativity that is thrown around. All tattooists are in the same boat and are on similar journeys. It's time for everyone to stop bickering and putting each other down and to lift each other up. I do everything I can for those artists closest to me to help them master what tricks I have, make contacts, and get conventions and magazine coverage and whatever. It's time artists started helping each other.

I get a lot of artists emailing us asking to critique their online portfolios. First off, a real critique is formal and done in person and takes a LONG time, so an internet smack down is really unsuccessful before it even begins. A true critique involves watching someone work, and reviewing their entire portfolio.

I'm talking more about artists simply being more positive and involved in progress. Tattoo artists are traditionally secretive and distant from each other, but times are a changin! I tattoo a lot of tattoo artists, and I love it.

Q.) You have succeeded at everything you have attempted, is there anything you CAN'T do? 3 things!

BB.) Math, thank God for calculators cause it's the wrong side of my brain! I can't seem to graduate from anything. I never did, but I am currently enrolled in the Brewniversity at Taco Mac where you get a degree for drinking beer, I am currently a sophomore and am learning a lot. And I was never good at holding a JOB! I was fired from every single job I had; dish washing, car washing, AND tattooing! Now I cannot be fired, it is awesome.

Q.) You are tattooing at ALL OR NOTHING again, talk about that.

BB.) I'm thrilled with the new space inside of All or Nothing! Nicole@allornothingtattoo.com and I are currently about to book 2010, which is BLANK (by choice) at this moment! I have been very selective about what projects I am taking on, and I am STOKED on the new artwork I'm doing. Plus, I missed my staff!! www.antiartelite.com is awesome and still exists, but the new place is more awesome and I get to see my guys!



Gallery of Brandon Bond returning to All or Nothing Tattoo
http://www.allornothingtattoo.com/gallery/thumbnails.php?album=162



Q.) Speaking of NEW Artwork, you seem to be hiding your new stuff, what is going on there?

BB.) I have been working on a LOT of LARGE projects, most of which are almost done or already complete. I am going to release them together, as they are all related and completely different than anything I've ever done! - Stay tuned... or better yet, come get some! But yeah, we have been hiding 'em. (laughter).

Q.) When all is said and done, what will you hope that people will remember about you, or be inspired by you to do?

BB.) I have been involved in Tattooing for 20 years now. I have seen a LOT of changes, and I have seen the effect our artwork had on contemporary tattooing. I am uninterested in all of that. The main difference that stands out, and that I believe we had a profound influence on, is the fact that Charity is now a common word in tattooing. When I started with bikers, drug dealers, pimps and ho's, charity was not a word in our vocabulary. Now I see "Toys for tots", bike runs for fallen officers, abused animal fundraisers, donations for child cancer, in tattoo based promotion all the time. This Christmas was the best one yet for that. I clicked on my MySpace and saw like 3000 charity events at tattoo shops. While I would never take credit for that, it is awesome to see how constant and prevalent it has become for us as an industry. Charity used to be a bad word that incited argument.


http://www.allornothingtattoo.com/index.php?sub=revue_pitball



Early on I did some charity auctions, and stuff publicly, and all we got initially was hate mail. "You scumbag, you're keeping that sh*t" (laughter)". I believe it was when one of our artists' children was diagnosed with cancer that it really took on a life of its own. The whole industry came together to help! And he recovered while watching his big screen TV and playing his new video games! (laughter) We raised some money for injured soldiers, a tattoo artist who had a bad car wreck, and did toys for tots, all while filming the animal charity movie (Vicktory to the Underdog), and all of a sudden the incoming mail changed. It was people with their own ideas on who to help, how to help, or asking what they could do to help US!

All of a sudden, I understood what "My Name is Earl" is actually all about. Now I f*cking love that show. "Hey Crabman!" But the point is that now it's trendy to do this before it was only thought of as a scam. "Do good and good things happen".



Charity Auction for Villa Lobos Rescue Center
Charity Auction for injured fellow tattooist, Johnny Jackson
Charity Event for Madison, Diagnosed with cancer


Q.) You have had a lot of things printed about you both positive and negative, what is your favorite quote and what is your least favorite quote? And do you want to respond publicly? Now is the time!

BB.) BEST QUOTE: "Brandon Bond is one of the masters of modern tattoo color work, and I'm honored to have had the chance to get to know him. Not only is he a brilliant artist, but he's one of the most approachable, honest, and generous artists out there. His big heart is clear, not only in his openness in sharing with others in the industry, but also in his work with animal rescue. He's making the rough, gritty world of tattoo art a better place." Joy Surles, author of "Tattoo: From Idea To Ink" and Editor of SKIN ART Magazine
RESPONSE: That quote is f*cking awesome. And so is she. She is actually in "The Whole Enchilada Vol 1" teaching artists how to get published and how to deal with magazines, press, digital photos, all that sh*t. It is awesome that she said this, makes me tingly.
Thanks Joy! You rule, and your new book is awesome. Thank you for putting us on the cover! Kiss your dogs from me and Ashley.

WORST QUOTE: Well, there is a few. (laughter) The worst one ever was a rant from another magazine editor. I won't dignify his publication or name by mentioning it specifically. But in the "Letter from the Editor" he berated us for about three paragraphs about me owning firearms, having money, all kinds of irrelevant dribble about me and my staff. Ironically, later, he published quite a bit of our artwork without our permission (laughter).

RESPONSE: You printed this in reference to my appearance on the cover of this magazine.


http://www.allornothingtattoo.com/index.php?sub=crave13bookreview




It is unfortunate that you have such a narrow view of who we are, simply because of a photo, or your own prejudices about our country and your own Second Amendment Rights. You obviously missed the First Amendment as well, when you censored your own magazine in order to sell it at Wal-Mart or whatever. In this industry there are a lot of leaches (outsiders who do not tattoo, yet make a healthy living off of us). Rarely are these corporate feeder types judgmental, if anything they are generally "a$$-kissers" who come and go like the tides. You are the exception to this rule. Thank you for the attention, I'm flattered. I learned a lot about you when Zeke Owen worked for me at All or Nothing, and when I worked with Deano. Bob Tyrrell speaks highly of you, and even after your attack, so do I, as I would never publicly say anything negative about anyone in our industry. You will not find your name on anything of ours... ever. And you will not.

To insult me for being successful financially? That is insane. It is the American Dream! Work hard, do good, open a business, and be rewarded for all your hard work! Hell, tattooing BASEBALL PLAYERS? That is about as American as you can get! The dog stuff, well that is the "AMERICAN PIT BULL TERRIER" after all, you gotta remember Petey from "The Little Rascals" right?




The American dream, baseball players, guns, money, Petey, small business success, independent free speech, are the cornerstones of Freedom. What country do you live in? (laughter).

I do in fact carry a gun, every day. I have a right in this country and in the state of Georgia to do so legally, and as the sole proprietor of several lucrative cash businesses, I can think of absolutely no reason to stop defending my staff, my family, my motherf*cking money, and my person. Admittedly this has nothing to do whatsoever with tattooing, which is why it surprised me that you would give this such unwarranted attention. Our friends at Crave requested those photos, and I think it is awesome. Thank you Crave Magazine for not being a f*cking pussy about getting your magazine in grocery stores and the fact that tattooing's "elite" know who you are. The owner of Crave magazine is a tattoo artist by the way, unlike you. It is actually the only magazine article framed in my home. Out of hundreds. It is hanging next to those rifles.

If your're interested, I will fly you out to my Ranch for a weekend, all expenses paid, come ride four wheelers and shoot some completely safe and legal firearms. You might actually enjoy yourself, relax a little, and gain an appreciation for all that our soldiers (including my amazing Grandfather who died a Colonel in the Air Force after serving in 3 wars!) have fought and bled to preserve. What's up with the tyranny, comrade? If you do another censored article about the history of our industry being the result of lineage passed through our military ships and bases while berating someone for engulfing those freedoms, I may actually have to carve my name into your c*ck while I choke you with mine. (laughter) That is a wonderful example of free speech to express emotion. Let's work this out, let's visit a base together? There are a few right here in GA. And I know there is a BIG one next to you! God Bless America and God Bless tattooing. (laughter)

I'm not a writer, I'm an artist, so while I may not be eloquent or grammatically erotic for you, I mean what I say, come see us, drinks and plane tickets are on me. I forgive you.


Q.) Was there ever a time in your early career you thought you got into the wrong industry?

BB.) Yeah! When I was a musician! (laughter) But not in Tattooing, I've always been at home with a machine in my hand.

Q.) Have you ever hit a roadblock that made you want to just hang it up?

BB.) Not in tattooing no. Music, Film making, dish washing, yes. That's why tattooing is the only thing I still do.

Q.) Have you ever f@#ked up a tattoo?

BB.) No, not that I am aware of. I am my own worst "hater" though. Always critical. And I did suck at tattooing for a lot of years (laughter).

Q.) Is it true that you left your wife for a midget? Is it true that you were in Prison last year?

BB.) (Laughter) I did not leave my wife, and I was not in prison no (laughter continues), I have made out with a little person before yes, it was spectacular. Amazing even! The rumors we hear are hilarious and I'm not sure why they exist? I'm sure now that with "PIT BOSS" and "Shortywood" on Animal Planet and all, that the rumor mill will kick up again, we are cool with it.

Q.) You ever do a tattoo so good you know you hit it perfectly, like the stars aligned only that day, and could never replicate it in the same fashion, without reference, even if you wanted to?

BB.) Yes, those are the best days, the days the client is cool, the session is uneventful and quiet, and the artwork speaks volumes. It is rare, but amazing. It keeps me tattooing even though I don't have to.



Q.) How often do you scrap a rough draft concept of a requested piece of work? I'm just curious if you have problems laying an idea down on paper at times or if the lines just seem to fall into place like Satan is guiding your hand.

BB.) All the time! Especially when it's a zillion ideas from the client mucking it all up. It sucks! Just cause it looks easy does NOT mean it is (laughter). Bastards keep trying to tell me what to draw (laughter). I'm joking by the way. No hate mail please.

Q.) How long has it been since you've done a tattoo from a piece of tattoo flash?

BB.) Martin Prado, number 14 on the Atlanta Braves, six months ago, that piece was based in flash or a T-shirt or something retarded. He is an awesome second basemen though!





Q.) Have you ever told someone to go home and wash their stinking a$$ and don't come back until they smell like Irish Spring?

BB.) YES, I was a body piercer for 16 years, and trust me, some of those experiences I cannot drink away. PTSD for sure. It is amazing how many women are not even aware of what might be going on "down there"! And I'm not talking about the crimson tide. (laughter)

Q.) What's your favorite hand gun you own?

BB.) Annette Larue, of Electric Ladyland Tattoo, gave me a Smith and Wesson, 7 shot, large frame, short barred 357 magnum revolver when I got robbed once and told me to carry it to work. I later bought it from her and still carry it to this day. That is the pistol in my first article.





Q.) You and your companies have over 200 video shorts dispersed throughout YouTube according to Google. Which are your favorites?

A.) We try and keep all the videos on www.ATLANTATATTOOTV.com updated so people can go there and overdose on 'em for sure, there is like 20 pages of videos or something? (laughter). I like the braves one where we are making fun of a Braves Pitcher for giving up homeruns the day before his appointment, and the self defense instruction and Christmas ones. I like the Tupac one too.


http://www.youtube.com/user/AllorNothingTattoo
http://www.youtube.com/user/brandonmfbond
http://www.youtube.com/user/AtlantaTattooTv
http://www.youtube.com/user/AtlantaPitbullRescue


Q.) Of all the places you have been to and tattooed, which place had the most interesting people?

BB.) I enjoyed New Orleans the most... from what I remember of it. (laughter) The hottest chicks are in TX, the nicest folks are in Seattle, and the skin is all pale white there cause of the rain, the biggest partiers are obviously in Vegas, but my favorite is Atlanta, something about the dirty south, the ATL, the woods, the city, the culture, the local news (I love Stephanie Fisher!) it's amazing here in GA.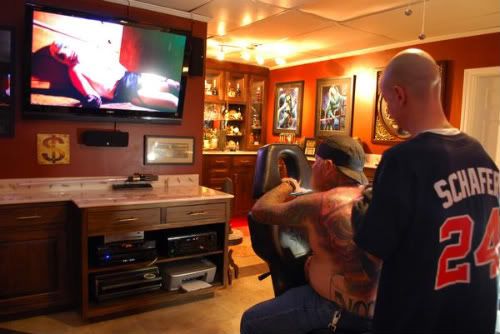 Q.) If an accident occurred and you lost the use of your hands, what would you do with your life? Would you find some way to continue making art? Would you find another way to contribute to the tattoo industry? Where would you take your life?

BB.) I would continue to make art any way I could, but I would be able to survive off of my companies. Part of the reason I have insulated myself so deeply in various streams of income is a direct result of this fear. Diversity in ones financial situation, portfolio, and lifestyle are the keys to comfort. Tattooing is a hard way to make a living, much less retire on. I have seen one sad horrible story after another for 20 years. I have worked myself to death to protect my family from this. We are doing good! Like I said - the AMERICAN DREAM still EXISTS!!!!!! All or Nothing is proof.


Q.) Have you ever refused to tattoo someone because of the image they wanted? I.e. The image was to disturbing and/or it went against your morals/principals.

BB.) F*ck NO! I am not an elitist c*cksucker who would push my opinions on others. Tattooists that do so just made me money over the years. Thanks, you pompous brokeasses. My job is to do art, not regulate morality. It is none of my f*cking business. Another reason why I love this country and why I love this job.


Q.) Are the braves going to make it to the World Series in 2010?

BB.) YES, I think they have a great shot, especially with all that tattoo mojo going on now (laughter). They have made some great off season moves already, and I'm still tattooing several of them. At Spring Training, I will be there screaming obscenities at them in a blackout. Go Braves! It has changed the game of baseball for my wife and I now that we know them all personally. The text messaging after the games would probably be worth a LOT to ESPN (laughter) but I just read em and laugh. And I do know of one player in particular, in the National League that will get beamed in the face by a client of mine for a free tattoo in the 2010 season so stay tuned for that! (intense laughter)... seriously.


Q.) Now that you are returning to tattooing, would you ever consider doing some "surprise" convention visits and be available for an appointment or two.

BB.) Hell no. I did 14 years of constant touring, and nowadays to get me off my Ranch, you gotta wave an awful lot of money at me. I love my home, my dogs, my life. I've worked really hard to get here, and I hate leaving!

Q.) Where do you keep coming up with all these amazing artists?

BB.) They come to us, usually as guests and once they see how awesome it is here at All or Nothing, they stick around. I think all our artists came to us, we haven't actually "recruited" anyone. The old saying "if you can't beat em join em" may apply, but I think it's just that we are serious about artistic growth and success and promotion and touring and work... and that attracts serious artists.

Q.) How many times have you not gotten paid for a tattoo, because you decided you could put bl*wjobs in the bank?

BB.) (laughter) I have had my share of fun times as a youngster for sure. But in the immortal words of Tupac, "M.O.B" (money over b*tches!)



Q.) What was the most f*cked up thing that happened while you were learning to tattoo? Like, the moment when you first thought "SH*T this job sucks"?

BB.) The first time I saw an empty body bag, chains, a cinder block, and a chainsaw in my boss' trunk as a youngster in Texas... I knew then not to f*ck around with some ones money, family, or shop. I still remember that clearly every day.

Q.) What's the most hours you've tattooed continuously, multiple tattoo style bustin' a$$ rolling in the dough style?

BB.) I tattoo people from Europe and Australia regularly, usually at least a 4 day process, once I did 5 days in a row for at least 12 hours a day. I just slept on the shop couch (laughter).


Q.) How can one get into your private Anti Art Elite studio to get work done?

BB.) SUPEREASY! Email nicole@allornothingtattoo.com and get the ball rolling!



Q.) After all the tattoos you have done, is there anything you have not had the chance to tattoo that you would like to?

BB.) F*CK YES! I have a whole slew of sh*t ready to go for 2010! It does not look like "my work" which makes it more awesome! Starting fresh with some totally different stuff! Come get some!

Q.) Thanks for the interview and thanks for all the extra questions from your online community, best of luck in 2010!

BB.) Thank you! This was the longest interview I have ever done, it's insane! See you on our message boards!






All or Nothing Tattoo
2569 S. Cobb Dr.
Smyrna, Ga. 30080
Phone: 770.435.9966
APPOINTMENT INFO




Brandon Bond
Joe Waulken
Taylor Jordan
Michael 'Genghis' Ray
Collaborations




Brandon Bond
Genghis Ray
Joe Waulken
Magic Juan
Taylor Jordan





MLB Players get tattooed at All or Nothing
Tattoo Convention Photos
All or Nothing Invades Europe
Mike Busey Visits
Around the Shop
Tattoos that say All or Nothing
Celebrity Tattoos
Darker Skin
THE GREAT PIT BALL
Shop Expansion Photos
Behind The Scenes
-VICKtory to the Underdog
Our Film Wins Film Fest Award
The Apprentice Corner
Atlanta Braves get tattooed at All or Nothing Tattoo
Brandon Bond returns to All or Nothing
Guest Artist Galleries
Filming of LA Ink with Kat Von D
Tattoo Seminars
Testimonials
New Pictures
Collaborations
StrangleHold Merch
AoN Studio Tour
Halloween Party '05
It's A Wild Ride '05
Past Party Pictures






Kingpin Supply



Eulogy Recordings




Tattoo enthusiasts would surely love the collection of <ahref="http: www.rankmytattoos.com="" tattoos="" tribal-tattoos="">tribaltattoos at rankmytattoos.com
<ahref="http: www.rankmytattoos.com="" tattoos="" tribal-tattoos="">
Hardnox Clothing