Concert NOW at the House of Blues in the Mandalay Bay Casino

TICKETS FOR THE GREAT PIT BALL AVAILABLE HERE!!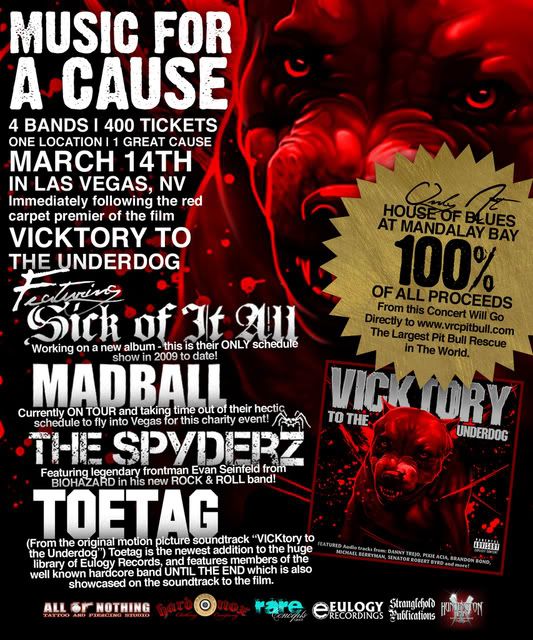 Concert at the House of Blues, featuring Sick of it All, Madball, The Spyderz and Toetag. Millions of albums sold between them, the bands will be rocking the House of Blues in front of only a few hundred people. The smallest concert these bands have done in years and one of the first public appearances from Evan Seinfeld's( of BIOHAZARD ) new band!
This concert will be an extremely personal and private show, only 400 tickets will be made available, and is part of a large charity event going on at the House of Blues immediately following the red carpet premiere of the feature film "VICKtory to the Underdog". Previews can be viewed:
Sick of It All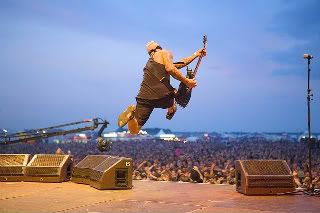 This is the only show scheduled so far in
09
, they are currently recording a new album.
MadBall
Is currently on tour and will be taking time out of their hectic schedule to fly into Vegas for this charity event.
The Spyderz
from the original motion picture soundtrack "VICKtory to the Underdog")

Toe Tag is the newest addition to the huge library of Eulogy Records, and features members of the well know hardcore band UNTIL THE END which is also showcased on the soundtrack to the film.


The soundtrack is available here:

The Great Pit Ball is offering discounted air travel and hotel packages to all attendees.
Attendees should call the AirTran Airways EventSavers Desk at 1-866-68EVENT (1-866-683-8368) to book your flights. Event Code: LAS031309 (THE GREAT PIT BALL).
http://www.airtran.com
A 10% discount on the LOWEST available AirTran Airways round trips. Attendees may travel any three days prior to the event start date and any three days after the event close date if they wish to spend any additional time in Las Vegas.
Hotel options are, The Palms Casino
http://www.palms.com
, Mandalay Bay Casino
http://www.mandalaybay.com
or Terribles Casino
http://www.terriblescasinos.com
at a rate of only 69.00 per night (179.00 per night without the code.The password for Terribles is "All or Nothing Group".
Phone numbers are:
Palms Casino - (702) 942-7777
Mandalay Bay Casino-1-877-632-7800
Terribles - Phone (702) 733-7000