How long have you been tattooing?

I have been tattooing for almost 6 glorious years. I apprenticed for a year and 4 months, and had a very grueling apprenticeship.




Where DID you live before coming to Atlanta?

I was in Florida for the summer and fall spending some time with my family. I was in the upper peninsula Michigan for the last 3 winters were I owned my own shop.



How did you come to ALL OR NOTHING, tell us the story!?!

Well i went to Florida to decompress for a little while. Although my shop was doing very well, I got seriously burnt out trying to manage Artists and also furthering my own art. After some time in Florida I realized that furthering my tattooing and artwork was more important to me than owning my own shop. So I set my sights high on a shop that was very well known and respected through out the tattooing industry. I figured I'd head to Atlanta first and then on north if i didn't find the right shop. I approached very well known shops in the area and after spending some time at All or Nothing I knew it was the right fit.



What brought you to move to Atlanta to work at ALL OR NOTHING?

To further my artwork, tattooing and to find a great tattoo family.





What is your favorite type of tattooing to do?

LargenColor surrealism is my go to style, bending reality to something more abstract and bold. Human and Animal portraiture with crazy effects and backgrounds. Bio-Organic work has to be my next favorite genre but I always do something different with it I don't like it when I see other people rip off Guy Aitchison's work, DON'T BE LAZY ARTISTS CREATE DON'T COPY!!!! Lately I've also been starting to draw Neo-traditional and hope that i can tattoo that for my smaller pieces.



What machines do you use? How many do you set up for a substantial session?

I use both rotary and coil machines. Tim Hendrix built my liner, I have an Aaron Cain shader, a few handbuilt machines I put together and a Stygma Hyper rotary. It depends on the large tattoo how many machines I will set up, I used to set up 4 machines for large sessions, however, lately I've been keeping to K.I.S.S.( Keep it simple stupid) and using 2-3 machines.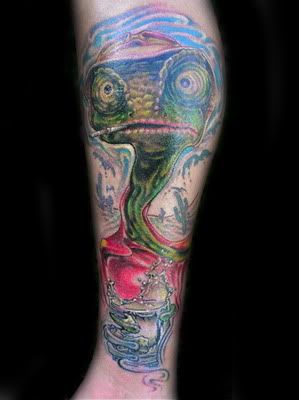 What type of needles & groupings do you prefer? How did you come to

start using them?

I use needles that work for me. I'll use kingpin, eternal and eikon needles.



Is Brandon really a psychopath to work for? hahahaha

Aren't all artists psychopaths? I wouldn't know I haven't seen him too much, he's been traveling a lot lately. The shop is run great, Dave and Matt are the perfect "Artist" managers. We all are pretty self sufficient and motivated, and there is no drama in the shop as well.




What has changed about your tattooing since you first walked in the

front door of ALL OR NOTHING?

Definitely been putting more black in my tattoos, staying away from my "Skittles" coloring methods. Also I've been simplifying some of my backgrounds and effects so that the "cooler" effects stand out more and hit harder.



Everyone that comes arrives at different times, so the list of artists

is always in flux. Who have YOU worked with, gotten tattooed by, met

or gotten to watch work since coming to ALL OR NOTHING? And how did

any of that affect you and your art.


Well first off the Crew that is employed here permanently has affected my art the most. Jason Adkins is a phenomenal Bio Organic and realism artist and watching him definitely help me. Eric Scsavnikki who is a great neo-traditional artist has helped bridge my gaps in my neo-traditional.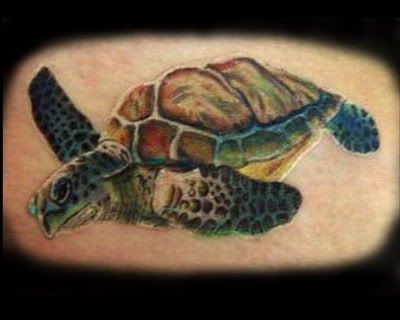 What other type of art do you produce? Paintings, video, flash, graphics etc?

I acrylic and oil paint. I also water color, sculpture work and crafts of all sorts.



Are you tired of people talking to you about dogs? hahaha

Never, I own a half Pit Bull have Wiener Dog Mix who is almost three, and I hope to adopt a smaller female Pit to be his girlfriend very soon. Pit bulls are my favorite type of dog and are the most loving and intelligent dogs out there. I really commend Brandon for all the work he has done to lessen the ignorance towards Pit Bulls.


How has your LIFE been changed since coming?

I have significantly less stress not owning a shop, Atlanta is a great city and way better than living in Florida and for the first time in my career, I feel 100% satisfied in my tattoo life.



Was there ever a time when you realized you had figured this out or

had an "art epiphany" about your own growth as a tattooer?

At times I thought I'd "figured it out" but i was always quickly reminded of how wrong I was. I'm only 26 and even though I am a bad ass tattooer I still have a lot to learn.



What kind of inks do you use?

Eternal, Intenze, some Fantasia colors


What is it like to work with so many artists from all over everyday?

Its an artist dream, very inspiring.



Tell me about your kids (if you've got any?)

I have a dog and 2 cats, and for the moment that is all the chillins I need



What do you love about tattooing the most?

The freedom to be 100% myself when I'm at work.