Repost From:
Adopt a Bull
Date: Jul 11, 2008 8:06 PM I was PERSONALLY at SACC the other day and met both of these dogs. Besides being BEAUTIFUL, they are BOTH sweet as can be... If you can adopt on of them.. PLEASE DO, NOW! Or, if you can temporarily FOSTER for our group, please let me know a.s.a.p.
South Animal Care & Adoption Center 5100 West Eau Gallie Blvd Melbourne, FL 32935 Phone: (321) 253-6608 Hours of operation: Monday, Wednesday, Friday, Saturday 10am - 5pm
Tuesday, Thursday 11am - 6pm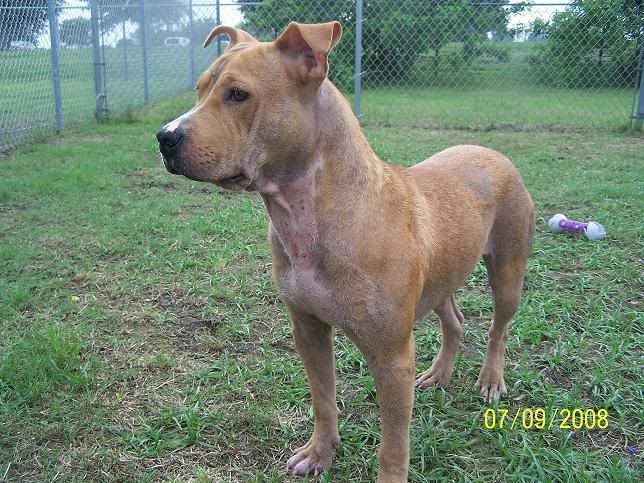 Meet Sasha
She is one of the most loving dogs I have ever met! Sasha was found living on the streets in the Cocoa area. She was in terrible condition with demodex mange. Sasha has been recieving medical care & is doing much better now. Demodex mange is not contagious to people or other animals- she does have a special medicated shampoo that is helping to heal her coat. Her coat will fill in nicely once she is all cleared up.(which the shelter is taking care of)
Sasha is approximately 1 yr old, heartworm negative, approx 46 lbs, & will be spayed upon adoption.
Please help spread the word for this sweet girl! She has been at the shelter for so long & her time is running out! Sasha is a big snuggler & just needs a loving home of her own! Come spend a few minutes with her & you will fall in love!!! Contact the SOUTH ANIMAL CARE & ADOPTION CENTER (melbourne,fl) 321-253-6608
PLEASE HELP PETEY! Petey is a lover boy who is SO sad to be at the shelter! He is a 7 month old, white/brindle American Bulldog. Petey is heartworm negative, up to date with shots, & will be neutered upon adoption. He is approx 50 lbs. His former owner says he is good with kids, other dogs, & even cats! Petey is housebroken & crate trained. PLEASE help spread the word for this sweet boy before his time runs out! He did nothing to deserve this sentence! Petey is located at the SOUTH ANIMAL CARE & ADOPTION CENTER 321-253-6608